Summer is getting nearer, and a select few festivals are up for review as we take to the road to do the festival circuit...some we've been to before, some we haven't, but the aim is to always provide you with a unique view of the festival you won't find anywhere else...well, until now actually!


Virtual Festivals have invited us to review some events for them this year, so you'll be able to catch up on all the latest news and line-up info for these, and in fact any other festival, and get our valued opinion of the festival when it's finished, all in one place...

...but we'll still be focussing on specific acts and sets here in more detail to put together our end of season Ultimate Festival

Events on the agenda initially are below :-

Click on any of the flyers to go to the festival home page...



Sound System highlights include The Chemical Brothers, The Prodigy, Digitalism, 808 State, Kevin Saunderson, Dave Clarke, Luciano, Josh Wink, Soulwax, Hot Chip, a Mark Ronson DJ set, Tom Middleton, Audio Bullys, Adam Freeland, Evil Nine, Meat Katie, Bugz in the Attic, DJ Yoda and Dan Greenpeace, LTJ Bukem, High Contrast, Fabio, Goldie and more...

24th & 25th May, Buckinghamshire

Read the review of this event here or at www.virtualfestivals.com



This year's psychedelic line up of acts include The Orb, System 7, Eat Static, Dub Pistols, ILS, Beardyman, Dub FX and a lot more besides...

29th May - 1st June, Somerset

This event was cancelled due to bad weather conditions, and has now joined forces with The Big Chill, so everyone with tickets can now attend that event, and get the best of two very good worlds...more details to follow


Line up includes X-102, Miss Kittin, Pan Sonic, M_nus, Soulwax, Spank Rock, Antipop Consortium, Diplo, DJ Yoda's Magic Cinema, Ewan Pearson, Goldfrapp, Leila, Ninja Tune / Counter Records

19th - 21st June, Barcelona, Spain

Urban festivals don't always have the same charm as removing yourself from the hustle and bustle of the city for a weekend, and plonking you and your tent in a field to camp amongst the starlit greenery, but this one breaks all those rules in so many ways. Combining a trip to this fabulous City with the atmosphere and entertainment of a large music event is something we couldn't turn down, and with so much going on in and around Barcelona for the festival week, this event could well get a regular revisit. Full review and gallery of images will appear soon.



Highlights from the intense line-up again include The Orb, Overproof Sound System, Dubfire, Meat Katie, The Dub Pistols and many more still to be announced...

18th - 20th July, Berkshire

Read the review of this event here or at www.virtualfestivals.com



This year's line up includes Thievery Corporation, Plaid, Luke Vibert, DJ Krush, DJ Vadim, Fat Freddy's Drop, Roots Manuva, Spring Heel Jack, Daedelus, Nitin Sawhney, Dub Action Painting with Lee Perry & Adrian Sherwood and a new comedy tent with Bill Bailey & The Mighty Boosh but keep looking for more additions...

PLUS...


1st - 3rd August, Herefordshire

Read the review of this event here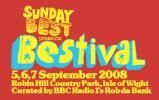 Highlights include Aphex Twin, Carl Craig, Laurent Garnier, Lee ' Scratch' Perry, George Clinton & Parliament / Funkadelic, The Sugar Hill Gang, DJ Yoda vs Shlomo, Dub Pistols, Freestylers, Stanton Warriors, Soul of Man, DJ Hype, TC, Coldcut, Justin Robertson, Slam...

5th - 7th September, Isle of Wight

Read the review of this event here


Lots to be announced, but initially artists include Jeff Mills, Underworld, Nightmares on Wax Soundsystem, DJ Krush, Phil Hartnoll, A-Skillz, Brand New Heavies, Courtney Pine...

23rd - 25th October, Brighton

Read the review of this event here or at www.virtualfestivals.com

...but there could be a few more to come!

If you like our reviews and would like us to put our knowledge and perspective on your publication, you can get in contact via email here

© 2006-13 Image Creation Corporation. All rights reserved.